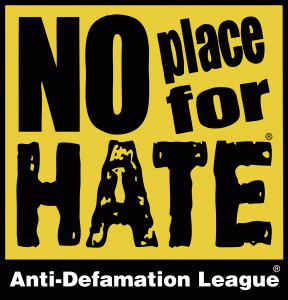 The Pacific Northwest office of the ADL is proud to offer ADL's No Place for Hate® initiative in our region. ADL's No Place for Hate initiative provides an organizing framework for combating bias, bullying and hatred, leading to long-term solutions to create and maintain a positive school culture. It provides a unique opportunity to empower students, faculty, administration and family members to take a stand against hate and bullying by incorporating new and existing programs under one empowering message.
Since its inception in 1999, over 1,500 schools and communities have participated in No Place for Hate nationally.
The No Place for Hate initiative is provided at no cost to participating schools, thanks to generous support from our underwriters.
How to Become a No Place for Hate School
If you are interested in becoming a No Place for Hate School in the Pacific Northwest Region, first contact the ADL office via email at Seattle@adl.org (include subject line: NPFH Interest) or by phone (206) 448-5349 x3 to explore your interest and to learn how this initiative can fit into your school.
Following an initial discussion with ADL staff, your school will complete the following steps:
1) Sign and submit the No Place for Hate Commitment Form to ADL
2) Create a No Place for Hate Coalition of students and faculty to oversee the initiative implementation. Consider inviting parents, guardians and community members to join as well. If needed, your team should start by conducting a needs assessment. No Place for Hate Coalition Form (PDF)
3) Sign the Resolution of Respect affirming a commitment to promote respect and to challenge bigotry in all forms. Have a majority of members of your school sign the Resolution of Respect, or work with ADL to create one of your own which reflects the goals of the initiative. (There is no need to return individually-signed Resolutions to ADL, merely the completed Resolution of Respect documentation form)
4) Choose and complete at least three school-wide anti-bias education activities throughout the school year. When selecting activities, students and faculty can utilize the No Place for Hate Resource Guide. For more information and resources on activity planning, anti-bullying resources, and lesson please go to: www.adl.org/combatbullying
5) Submit completed Activity Form to ADL. We recommend documenting your activities as you complete them.
6) RECOGNITION: Receive your official No Place for Hate designation from ADL and count your school as a leader in teaching and modeling respect for individual and group differences while challenging prejudice and discrimination.
7) CELEBRATE(!) your school's achievements by taking plenty of photos and videos. Please have all photographed or videotaped students sign the required Release Form.
For more information, call the ADL Pacific-Northwest Regional Office at 206-448-5349 or email us at Seattle@adl.org.